Registration and Payments
Registration will take place from 20th June to 15th September 2023.
The national federations are kindly requested to fill the registration forms.
Please notice that the registration form must be submitted by the national federations only. The application form shall be filled in at the official website of the championship. Teams will not be registered until all their registration details have been adequately submitted.
Late registrations: applications received after 15th September 2023 may be refused and will be subject to an additional entry fee in amount of 300 EUR.
At the latest by the 15th September 2023 the complete amount of fees + 50% of the total accommodation cost must be transferred to the bank account of the Technical Organizer: Lalatovic Travel D.O.O. Budva. Full payment for the hotel accommodation must be completed no later than 15th October 2023.
The foreign bank commissions must be paid by the sender. If not, the respective amount will be charged and should be paid upon arrival.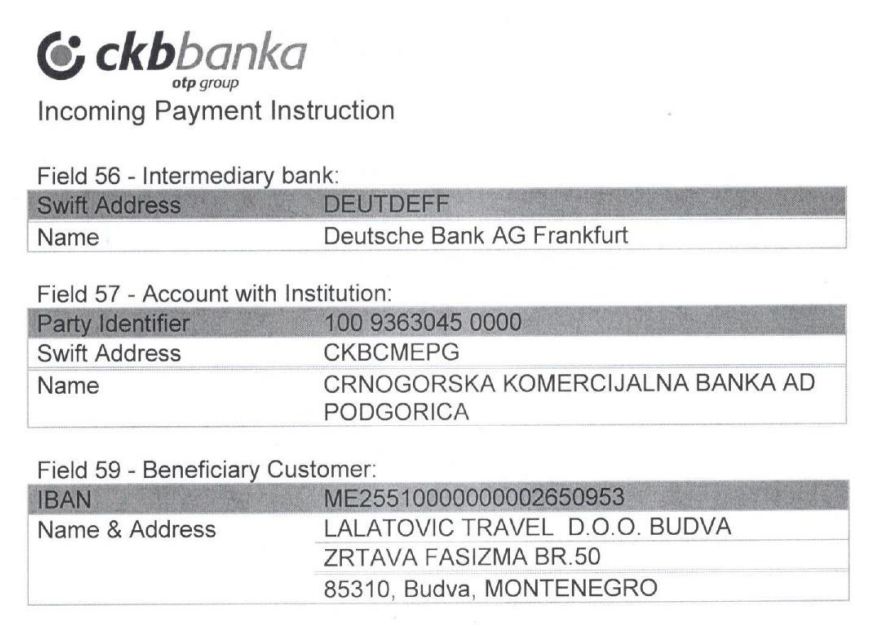 In accordance with ECU regulations, an entry fee of 260 Euro is required for each open national team and another 260 Euro for each women's national team.
According to ECU regulations, the entry fee shall be paid by the respective federations to the ECU bank account before or at the start of the competition.
The ECU entry fee must be paid to the account of the ECU:
Bank: Credit Suisse, Postfach 357, CH-6301 Zug
Account number: 1835105-42
Holder: European Chess Union National Bank Code: 4835
BIC: CRESCHZZXXX
IBAN Code: CH3604835183510542000
Every national federation will pay a registration fee of 100 EUR per participant, coach, accompanying person to the organizer.
This fee is obligatory for all and includes registration and accreditation badges as well as transportation from the airports (Podgorica and Tivat).
The fee should be paid not later than 15th September 2023 (registration deadline).